What is the Triple Crown?
The goal of the Triple Crown is twofold. First and foremost, the mission is to raise funds for two organizations dedicated to maintaining climbers' access: the Southeastern Climbers' Coalition and The Carolina Climbers' Coalition. These two organizations have been instrumental in the acquisition of land for the climbing community, in a region that is riddled with access issues. Secondly, this unique event will once again provide a tremendous opportunity for vendors to promote the sport of bouldering, which has quickly become the focus of the ever growing climbing community.
How do I participate?
Triple Crown is a series of bouldering events at three of the premier boulderfields in the Southeast. The series kicks off in the fall beginning with Hound Ears in Boone, NC, moves on to Stone Fort in Chattanooga, TN and then concludes at Horse Pens-40 in Steele, AL. 
You can register for any of the individual comps. See the registration page for detailed information. Register as early as possible, space is limited and this event fills up FAST!
Hound Ears
October 7, 2023
Stone Fort
October 21, 2023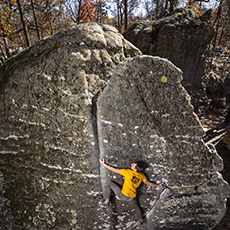 Horse Pens 40
November 18, 2023